Profiler Tool: Workspaces GUI integration for TikiWiki 4.0
What is? - Presentation: Concept Idea -

Profiler Tool (PT) is a new task manager for doing/creating new things in TikiWiki. In it's core it will be using profiles for doing the work. But the main user doesn't need to know YAML syntax. He only uses the drag and drop system.
Workspaces will be using this tool for the next major release of Tiki.
Concept Shots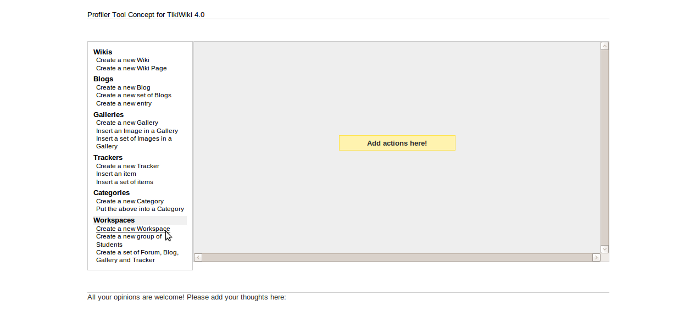 So what kind of things could we do with PT?

Well, in the fact all things you can do now with profiles. Think about PT as a GUI layer but adds some more improvements than only an abstraction layer.
And how it works?

The user will have a set of options to drag and drop, one option it's called an "Action" or "Trigger". For example, create one blog, one wiki, one workspace ...
The tool will be more powerful and productive if you use the concept idea of chaining or as I called it, a "Flow".
A flow is a set of actions that together collaborate in create one task in Tiki, e.g, create one workspace > create one blog > create a wiki > create a gallery > end workspace > Assign this workspace to this group ...
As you can see the possibilities are very big. And only you need to drag the things and configure names or other params (but in the fact, easy to do for the profanes).
PT is inspired heavily in Automator.
Cool things

With PT you will be able to save and share your commons "Flows". So if you have tedious task don't worry, save your flow and et voilá! The saved file will be an XML document, so you can share this flow into the community. For the save option, I'm planing to use Google Gears for store XML documents on the client side (but well this is a concept idea so this can be easily changed in the future)
How are you planning to do this tool?

Well two things mandatory are Jquery and Jquery UI. I'm planing to use a lightbox too.
So keep your eye in this page because it will be changing in the near future ;)